Epson
Epson Perfection V550 A4 Flatbed Photo Scanner
ReadyScan LED Technology
6400 x 9600dpi Resolution
Scan & Share
Easy Photo Fix Technology
3.4 Dmax optical density
Featuring DIGITAL ICE™ Technology
Scan multiple files at one time
Scanning versatility
Epson Perfection V550 A4 Flatbed Photo Scanner
Powerful Efficiency
---
Epson Perfection V550
High quality photo and film scanning with energy efficient LED technology for photographers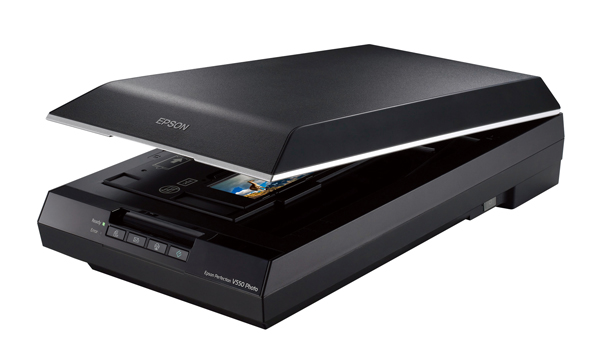 ---
Superior image quality
Underpinning the Epson Perfection V550 Photo's high level of performance is its 6400dpi Matrix CCD (Charged Couple Device) and Micro Lens technology combination. The enormous advantage of the CCD and On–Chip Micro Lens combination is that it enables the Epson Perfection V550 Photo to be incredibly light sensitive. As a result, photograph and film scans exhibit superior levels of picture quality than would otherwise be achieved. The Epson Perfection V550 Photo takes scanning to the next level with 12 lines of CCD with micro lenses compared with only 6 lines on previous models. This enables the Epson Perfection V550 Photo to produce better quality scans at faster speeds.

Adding even greater scanning resolution power is the scanner's ability to move the optical carriage at 9600dpi with Micro Step Drive — a feature that has consistently provided Epson Perfection scanner users with brilliantly clear images exhibiting high colour consistency.
Estimated Availability
10 or less units in stock
*Our stock is a mix of Supplier and HT Stock.
All shipments are subject to our standard delivery policy.
Tax
Ex. GST:
$335.46
GST Amount:
$33.55
Details
Tech Code:
AS128
Manufacturer Number:
B11B210401
Images may differ slightly from actual product
ReadyScan LED Technology
6400 x 9600dpi Resolution
Scan & Share
Easy Photo Fix Technology
3.4 Dmax optical density
Featuring DIGITAL ICE™ Technology
Scan multiple files at one time
Scanning versatility