Uniden
Uniden XDECT 8355 + 2 Cordless Phone System with two additional handsets, Integrated B...
Integrated Digital Answering Machine with 30 Minutes Record Time
TTS Technology – Caller Announce Caller ID* From Base
Intercom / Announce Call Transfer / Call Conferencing
Up to 10 Day Standby Time / Up to 10 Hours Talk Time
Hearing Aid Compatible [T-Coil]
Uniden XDECT 8355 + 2 Cordless Phone System with two additional handsets, Integrated Bluetooth®, Power Failure#Backup & USB Charging

XDECT® 8355 + 2
Digital Technology with Integrated Bluetooth®
Power Failure & Backup & USB Charging Cordless Phone System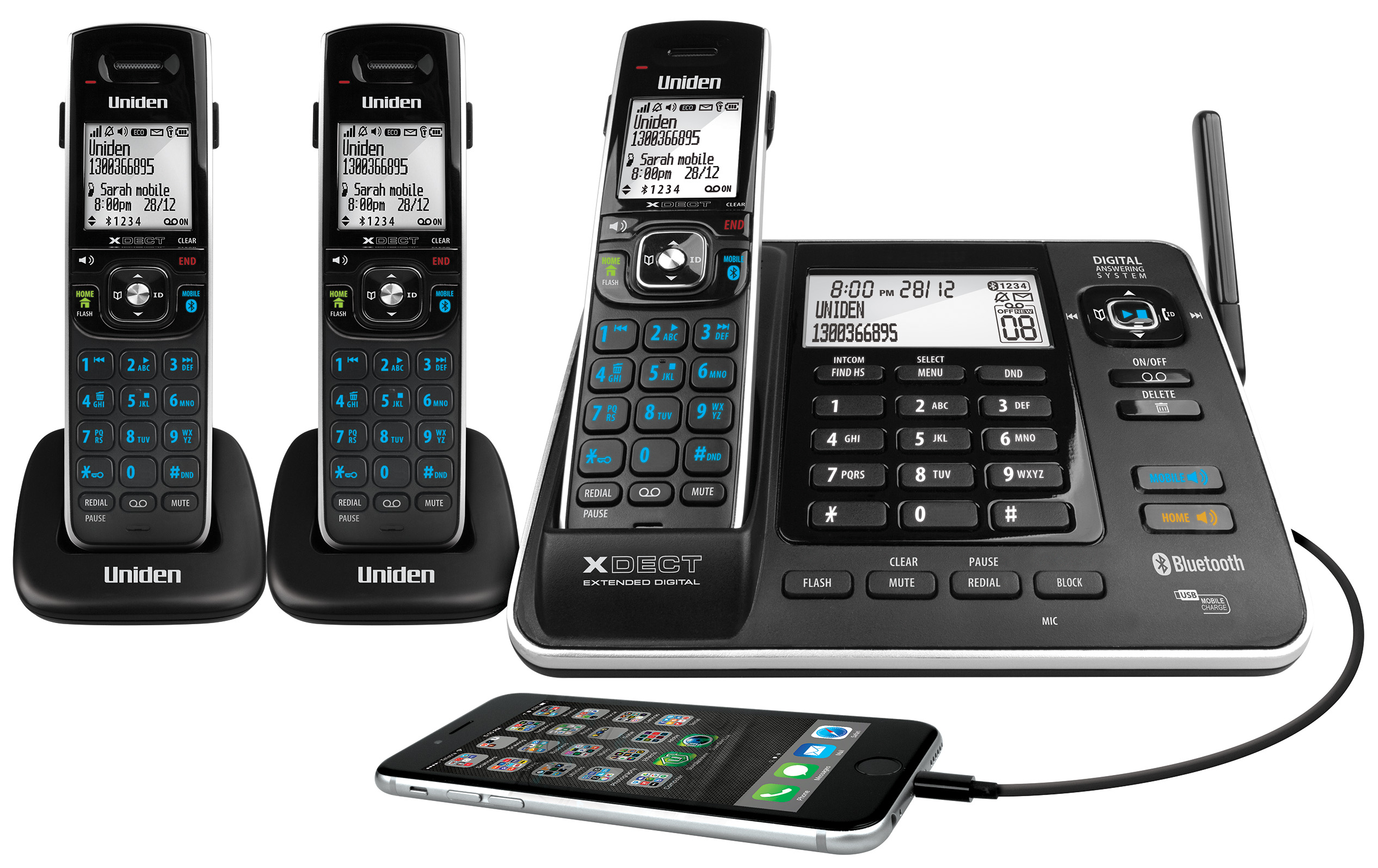 Introducing the Most Advanced Home Smart Phone System in the market. Sporting Bluetooth® connectivity with USB Charging Port. This new series from Uniden now enables you to dial and receive mobile calls on the cordless handset for convenience and versatility as well as charging your Mobile Phone simultaneously.
We've introduced a handy NEW feature to the XDECT® 83xx series – the feature is Call Block PRO, which help to minimise unwanted phone numbers. The Call Block PRO feature goes further by targeting call centre nuisance calls (i.e. Telemarketers) and will block registered numbers that share the first digits of the phone number but with a different extension number.

Another feature is Blackout Power Failure Protection. When a Power Failure occurs, the charged handset temporarily supplies power to the base unit. You can then make and receives calls using a handset.
What makes XDECT® unique and superior to other cordless phones is the diversity antenna system for optimal reception and clarity by mitigating multi-path errors. The high gain antenna allows for greater range and to eliminate dropout areas in your home.

The new Uniden XDECT® Bluetooth® / USB Cordless Phone Series combines the intelligence of Integrated Bluetooth® combined with a USB Charging Port feature. Stylish, Slim Design, the XDECT® 83xx range is the perfect marriage between "Smartphone" & "Homephone".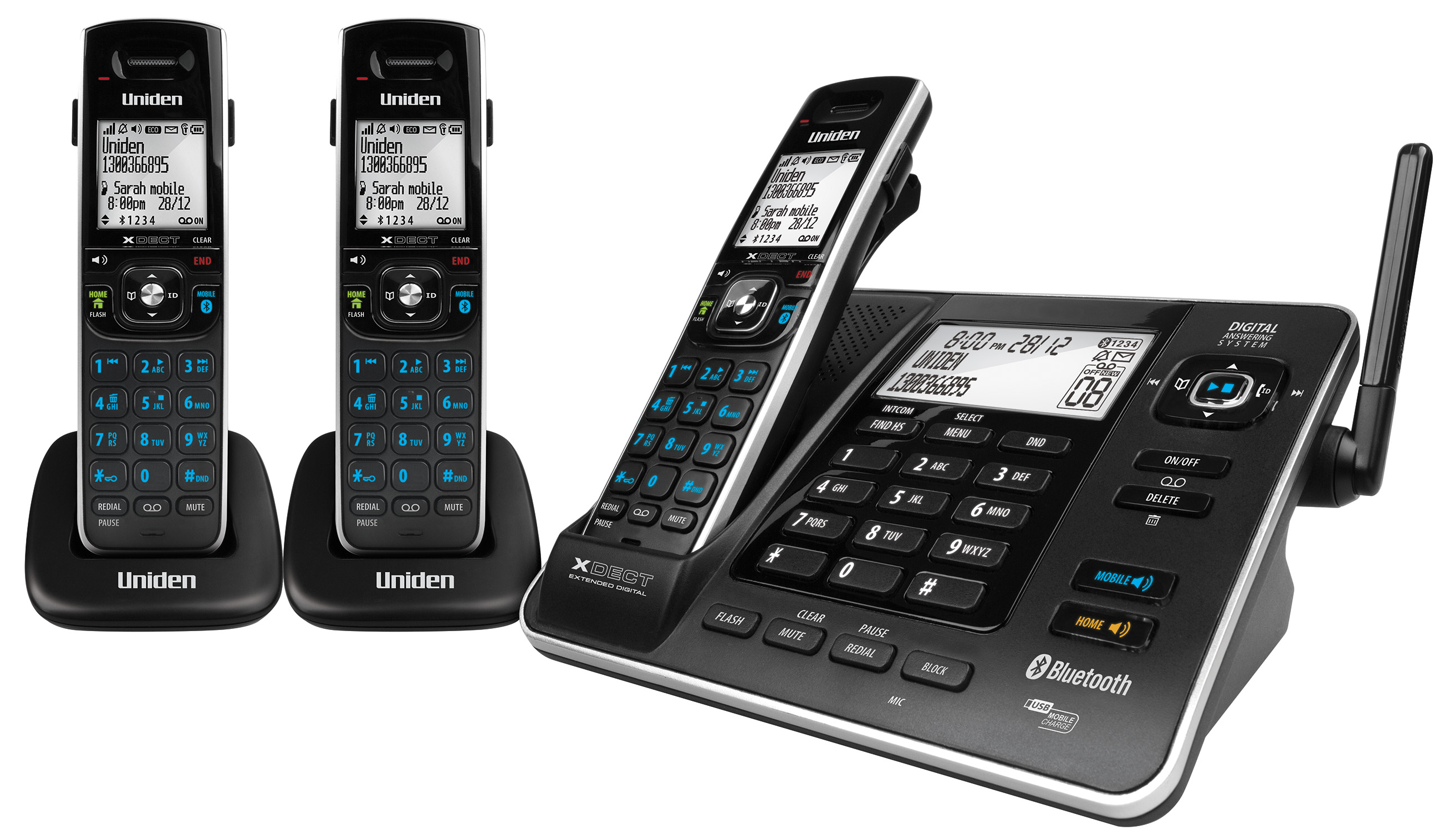 Estimated Availability
10 or less units in stock
*Our stock is a mix of Supplier and HT Stock.
All shipments are subject to our standard delivery policy.
Tax
Ex. GST:
$162.73
GST Amount:
$16.27
Details
Tech Code:
BG561
Manufacturer Number:
XDECT8355+2
Images may differ slightly from actual product
Integrated Digital Answering Machine with 30 Minutes Record Time
TTS Technology – Caller Announce Caller ID* From Base
Intercom / Announce Call Transfer / Call Conferencing
Up to 10 Day Standby Time / Up to 10 Hours Talk Time
Hearing Aid Compatible [T-Coil]
Product Type
Cordless phone answering system Bluetooth interface + 2 additional handsets
Total Number of Wireless Handsets
3
Cordless Phone Standard
DECT 6.0
Call Services
Caller ID, Call Waiting, Call Transfer, Call Hold, Call Block
Display
LCD display - monochrome - Yes
General
Product Type
Cordless phone answering system
Integrated Components
Bluetooth interface
Additional Handsets Qty
2
Total Number of Wireless Handsets
3
Phone Features
Cordless Phone Standard
DECT 6.0
Wireless Interface Provided
Bluetooth
Call Services
Caller ID, Call Waiting, Call Transfer, Call Hold, Call Block
Max Handsets Supported
12
Conference Call Capability
Yes
Indicators
Visual ringer light, voice message waiting indicator
Additional Functions
Built-in clock, Intercom, phonebook transfer, phonebook transfer via Bluetooth, ECO DECT, baby monitor, USB charging port
Phone Memory
Phone Directory Capacity
200 names & numbers
Caller ID Memory
50 names & numbers
Answering System
Recording Capacity
30 min
Display
Type
LCD display - monochrome
Miscellaneous
Connections
Headset jack / sub-mini-phone 2.5mm
USB / 4 pin USB Type A (power only)
Placing / Mounting
Wall-mountable, table-top
Cables Included
Phone line cable
Included Accessories
Belt clip, power adapter
Battery