Great Value
Fujitsu
Fujitsu ScanSnap iX1500 Document scanner - Duplex, 600 dpi Wi-Fi- PA03770-B001
Touch screen for various tasks
Perfect fit for both personal and sharing use
Speedy 30 ppm color scanning & 50 sheets Automatic Document Feeder (ADF)
Smooth scanning of any document with Manual Scan and the Receipt Guide
Dust Detection and Streak Reduction for clean images
Fujitsu ScanSnap iX1500 Document scanner - Duplex, 600 dpi Wi-Fi- PA03770-B001
Intuitive scanning at your fingertips
The ScanSnap iX1500 is the flagship model of the ScanSnap Series, capable of digitizing large volumes of papers quickly. It simplifies the scanning process for a variety of documents, making it easy to digitalize your life. You can be more efficient and productive, focusing on the things that matter the most.
An optimized user experience that keeps evolving
---
The ScanSnap iX1500 builds upon ScanSnap's "One Button Simplicity", taking efficiency to a new level.
Even more intuitive usage achieved by simple operation
You can complete processes from scanning to data utilization with just "one touch" of the 4.3 inch touch screen. Basic tasks such as setup and Wi-Fi configuration, checking scanning statuses and choosing save-to destinations are easy even for first-time users with the touch screen's easily understandable icon simplicity. Up to 30 pre-configured profiles can be made, optimizing scan workflow.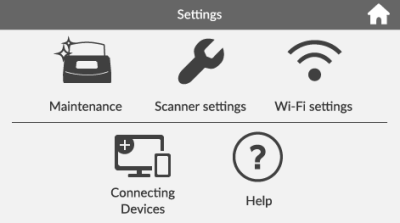 Profile icon examples

Share documents

Manage business trip expenses

Attach with email

Create photo album
Share your ScanSnap for everyone to use
A single unit can be shared with company colleagues and family members with software licenses* for multiple accounts. Since different icon colors can be selected for each user, users can easily tell their profile icons apart from those of other users.

* It comes with multiple software licenses: 4 for ScanSnap Home, 4 for ABBYY FineReader for ScanSnap™ and 1 for Nuance (Win/Mac). Additional licenses may be purchased for ScanSnap Home.
Usability more refined for every user
---
Designed for ultimate ease of use, the iX1500 transforms all the paper surrounding you with valuable information and adds more productivity to your lifestyle.
Refined and aesthetic form
The scanner's adaptable and aesthetic design enables it to blend into any space, so it can stay where it is used the most, your office, living room or study room.
Create files quickly
Simply open the document chute and ScanSnap is ready to go. Scan single and double sided documents with ease at a speedy 30 sheets per minute*1. When choosing "Fast" startup*2, you can start scanning even faster.
*1 Image quality: Best mode (color/grayscale at 300 dpi; B&W at 600 dpi).
*2 Power consumption increases with "Fast" startup.
Scan any document
Scan documents larger than the typical A4 size that need to be folded in half, envelopes and much more with Manual Scan Mode. Documents that are typically difficult to scan in Normal Scan Mode can now be captured without any issues.
Effortlessly scan small documents with the Receipt Guide. No need to be concerned about fixing receipts and business cards that tend to curl or skew. Designed to be a comfortable fit even when the cover is closed, it dramatically reduces the handling of documents before hitting the scan button.

Versatile paper handling
With professional grade feeding technology and ultrasonic sensors, the iX1500 handles multi-page documents with ease, and can additionally detect and alert you of multi-feeding errors.
Have images clean all the time
Receive notifications on the touch screen whenever Dust Detection spots dust that may result in streaked images. Maintenance notification beforehand enables you to reduce the hassle of time-consuming rescans.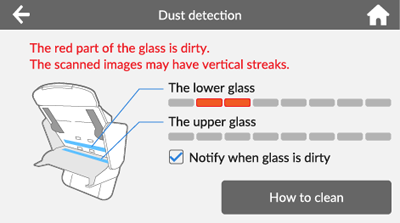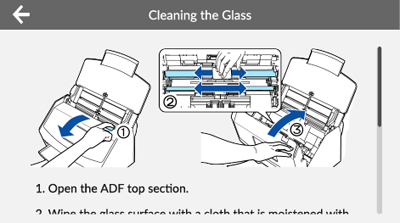 Even if streaks happen to appear on scanned images, Streak Reduction function removes them to produce clean images.

Scan anywhere you want whenever you want
Connect the iX1500 to your computer or smart device (both iOS and Android)*1 in your office and at home, using existing Wi-Fi environments with Access Point Connect Mode*2. Connecting is also possible in environments without Wi-Fi using Direct Connect Mode, as the scanner itself functions as an access point. Supporting 5 GHz Wi-Fi*3, it ensures smooth data transmission.

*1 When using smart devices, ScanSnap Connect Application is required.
*2 Access Point Connect Mode requires a Wi-Fi access point or router.
*3 Availability of 5 GHz Wi-Fi may vary depending on region. 5 GHz Wi-Fi is not available with Direct Connect Mode.
Best experience with ScanSnap Home
---
ScanSnap Home combines all your favorite functions into one and is the ultimate platform to utilize scanned data in various ways. Easily manage, edit and utilize data from documents, business cards, receipts and photos with the software. You can scan large volumes of various types of documents from color photos to double-sided landscape documents with a host of intelligent automatic image processing functions.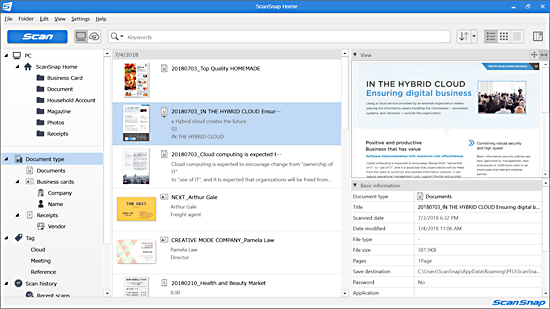 General Technical Specifications
---
Scanner Type

ADF (Automatic Document Feeder)/Manual Feed, Duplex

Scanning Color Modes

Color, Grayscale, Monochrome, Automatic (Color / Grayscale / Monochrome(1) detection)

Image Sensor

Color CIS x 2 (Front x 1, Back x 1)

Light Source

3 color LED (Red / Green / Blue)

Optical Resolution

600 dpi

Scanning Speed (A4 portrait)(2)

Auto Mode (Default)(3) Simplex / Duplex: 30 ppm
Normal Mode Simplex / Duplex: 30 ppm (Color/Grayscale: 150 dpi, Monochrome: 300 dpi)
Better Mode Simplex / Duplex: 30 ppm (Color/Grayscale: 200 dpi, Monochrome: 400 dpi)
Best Mode Simplex / Duplex: 30 ppm (Color/Grayscale: 300 dpi, Monochrome: 600 dpi)
Excellent Mode(1) Simplex / Duplex: 8 ppm (Color/Grayscale: 600 dpi, Monochrome: 1,200 dpi)


Document Size

Normal Scan Minimum 50.8 x 50.8 mm (2 x 2 in.) Maximum 216 x 360 mm (8.5 x 14.17 in.)
Manual Scan A3, B4, 279 x 432 mm (11 x 17 in.)
Long Paper Scanning(4) 3,000 mm (863 mm in 32-bit), Smart Device: 863 mm (Duplex), 1,726 mm (Simplex)


Paper Weight (Thickness)

40 to 209 g/m2 (11 to 56 lb)
A8 or less: 128 to 209 g/m2 (34 to 56 lb)
Cards: 0.76 mm or less (Compliant with the ISO7810 ID-1 type) (Includes embossed cards in landscape orientation)


ADF Capacity(5)

50 sheets (A4, 80 g/m2 or 20 lb)


Multifeed Detection

Overlap detection (Ultrasonic sensor), Length detection


Interface

USB USB3.1 Gen1 / USB3.0 / USB2.0 / USB1.1 (Connector Type: Type-B)(6)
Wi-Fi IEEE802.11a/b/g/n/ac, Frequency band: 2.4 GHz / 5 GHz(7)


Wi-Fi Interface

Connection Mode Access Point Connect Mode (Infrastructure mode)(8) Direct Connect Mode (Ad-hoc mode)(9)
Security WEP (64bit / 128bit), WPA (TKIP / AES), WPA2 (AES), WPA-PSK (TLIP / AES), WPA2-PSK (AES)
Easy Installation WPS2.0


LCD

4.3 in. color TFT touch screen


Power Requirement

AC 100 to 240 V, 50/60 Hz


Power Consumption

Operating Mode 17W or less
Sleep Mode USB connected: 1.5 W or less, Wi-Fi connected: 1.6 W or less


Operation Environment

Temperature 5 to 35 °C (41 to 95 °F)
Relative Humidity 20 to 80% (Non-condensing)


Dimensions (W x D x H)(10)

292 x 161 x 152 mm (11.5 x 6.3 x 6.0 in.)


Device Weight

3.4 kg (7.50 lb)


Driver ScanSnap Home (ScanSnap specific driver)

Windows®: Does not support TWAIN/ISIS®
Mac OS: Does not support TWAIN


Environmental Compliance

ENERGY STAR®/RoHS


Inbox Contents

ScanSnap, Welcome Guide, Safety Precautions, AC cable, AC adapter, USB cable, Receipt Guide


1Available only when connecting to a computer. 2Scanning speeds may vary due to the system environment used. 3Scans will be made in "Best mode" if shorter sides are less than 105 mm and in "Better mode" if not. 4Available in all modes except for "Excellent mode". 5Maximum capacity varies depending upon paper weight. 6Some computers do not recognize the ScanSnap when it is connected to a USB 3.0 port. In this case, please use a USB 2.0 port. 7Availability of 5 GHz Wi-Fi may vary depending on region. 8Access Point Connect Mode requires a Wi-Fi access point or router. 95 GHz Wi-Fi is not available with Direct Connect Mode. 10Excluding the stacker and other external attachments.



Compatible Operating Systems

Windows 10 / 8.1 (32-bit / 64-bit)(1a) / 7 (32-bit / 64-bit)
macOS v.10.14 / macOS v.10.13 / macOS v.10.12(1b)


Driver / Applications(2)

ScanSnap Home(4), ABBYY FineReader for ScanSnap™, Nuance® Power PDF Standard(5)


Hardware Requirements(3)

CPU(6) Intel® Celeron 1.8 GHz (2 core) or higher
(Recommended: Intel® Core™ i5 2.5 GHz or higher)
Memory Capacity(6) 2 GB or more (Recommended: 4 GB or more)
Display Resolution 1,024 × 768 pixels or more
Disk Capacity(7) 3.8 GB or more of the free hard disk space


1a Operate Windows in desktop mode. 1b macOS v10.12.4 or later is required. 2 Operating systems listed in this table are the only ones supported. Please refer to the ScanSnap Support site for the latest support information. 3 The ScanSnap device may not work if the connected computer does not meet these requirements. 4 Installation requires a computer and Internet. Activation is also necessary for software use. Please visit the ScanSnap Support site for download information. 5 Please refer to the included license certificate to download the software. 6 Scanning speeds may drop if recommended CPU, memory capacity and USB 1.1 requirements are not met. 7 Microsoft .NET Framework 4.7 will be installed (requires 4.5 GB of disk space) together with ScanSnap Home for systems that do not have .NET Framework 4.7 installed (Windows only). * The system requirements may change depending on the duration of support and the support policy of the companies that make the software listed in the table above.
Estimated Availability
10+ units in stock
*Our stock is a mix of Supplier and HT Stock.
All shipments are subject to our standard delivery policy.
Tax
Ex. GST:
$567.27
GST Amount:
$56.73
Details
Tech Code:
BN473
Manufacturer Number:
PA03770-B001
Images may differ slightly from actual product
Touch screen for various tasks
Perfect fit for both personal and sharing use
Speedy 30 ppm color scanning & 50 sheets Automatic Document Feeder (ADF)
Smooth scanning of any document with Manual Scan and the Receipt Guide
Dust Detection and Streak Reduction for clean images
Device Type
Document scanner - desktop
Interface Type
Wi-Fi, USB 3.1 Gen 1
Scan Element Type
Dual CIS
Light Source
RGB LED array
Max Supported Document Size
216 x 863 mm
Optical Resolution
600 dpi x 600 dpi
Max Document Scan Speed
30 ppm (mono) / 30 ppm (colour)
Max Document Size
216 mm x 863 mm
Supported Document Type
Plain paper, plastic card, receipts
Document Feeder Type
Automatic
Document Storage Capacity
50 sheets
Power
AC 120/230 V (50/60 Hz)
System Requirements
Microsoft Windows 7 (32/64 bits), Windows 8.1 (32/64 bits), Windows 10 (32/64 bits), Apple macOS 10.12, Apple macOS 10.13, Apple macOS Mojave 10.14
Dimensions (WxDxH)
29.2 cm x 16.1 cm x 15.2 cm
Environmental Standards
ENERGY STAR Qualified
General
Type
Document scanner - desktop
Interface Type
Wi-Fi, USB 3.1 Gen 1
Max Supported Document Size
216 x 863 mm
Scanner
Optical Resolution
600 dpi x 600 dpi
Scan Element Type
Dual CIS
Bulb / Light Source Type
RGB LED array
Max Document Scan Speed B/W
30 ppm
Max Document Scan Speed Colour
30 ppm
Scanner Speed Details
30 ppm - auto-resolution - A4
30 ppm - duplex - auto-resolution - A4
30 ppm - black & white - A4 - 300 dpi
30 ppm - colour - A4 - 150 dpi
30 ppm - greyscale - A4 - 150 dpi
30 ppm - duplex - black & white - A4 - 300 dpi
30 ppm - duplex - colour - A4 - 150 dpi
30 ppm - duplex - greyscale - A4 - 150 dpi
30 ppm - black&white better - A4 - 400 dpi
30 ppm - colour better - A4 - 200 dpi
30 ppm - greyscale better - A4 - 200 dpi
30 ppm - duplex - black&white better - A4 - 400 dpi
30 ppm - duplex - colour better - A4 - 200 dpi
30 ppm - duplex - greyscale better - A4 - 200 dpi
30 ppm - black&white best - A4 - 600 dpi
30 ppm - colour best - A4 - 300 dpi
30 ppm - greyscale best - A4 - 300 dpi
30 ppm - duplex - black&white best - A4 - 600 dpi
30 ppm - duplex - colour best - A4 - 300 dpi
30 ppm - duplex - greyscale best - A4 - 300 dpi
8 ppm - black&white excellent - A4 - 1200 dpi
8 ppm - colour excellent - A4 - 600 dpi
8 ppm - greyscale excellent - A4 - 600 dpi
8 ppm - duplex - black&white excellent - A4 - 1200 dpi
8 ppm - duplex - colour excellent - A4 - 600 dpi
8 ppm - duplex - greyscale excellent - A4 - 600 dpi
Scanner Features
Page length detection, access point mode, Ultrasonic sensor, 4.3" touch screen TFT display
Media Handling
Max Document Size
216 mm x 863 mm
Supported Document Type
Plain paper, plastic card, receipts
Supported Document Size Details
ADF - up to 216 x 360 mm
Long document - up to 216 x 863 mm
Document Feeder Type
Automatic
Document Storage Capacity
50 sheets
Expansion / Connectivity
Interfaces
USB 3.1 Gen 1 - Type B
Miscellaneous
Included Accessories
Receipt guide
Cables Included
1 x SuperSpeed USB cable
Environmental Standards
ENERGY STAR Certified
Yes
Power
Power Device
External power adapter
Voltage Required
AC 120/230 V (50/60 Hz)
Power Consumption Operational (Standby)
17 Watt
Power Consumption Sleep
1.5 Watt
Software / System Requirements
Software Included
ABBYY FineReader for ScanSnap, Nuance Power PDF Standard, ScanSnap Home, Nuance PDF Converter for Mac
OS Required
Microsoft Windows 7 (32/64 bits), Windows 8.1 (32/64 bits), Windows 10 (32/64 bits), Apple macOS 10.12, Apple macOS 10.13, Apple macOS Mojave 10.14
System Requirements Details
Windows 7/8.1/10 - Dual-Core Celeron - 1.8 GHz - RAM 2 GB - HD 3.8 GB
MacOS X 10.12/10.13/10.14 - Core i5 - 1.4 GHz - RAM 2 GB - HD 2 GB
Dimensions & Weight
Environmental Parameters
Min Operating Temperature
5 °C
Max Operating Temperature
35 °C
Humidity Range Operating
20 - 80% (non-condensing)