Hurry, Limited Stock!
Samsung
Samsung EVO Plus 32GB MicroSDXC with SD Adapter - 95Bs R / 20MBs W
Includes SD Card Adapter
4-Proof - Waterproof, Temparature-proof, X-Ray-proof, Magnet-proof
Read speeds up to 95MB/s
Write speeds up to 20MB/s
10 Year Warranty
Samsung EVO Plus 32GB MicroSDXC with SD Adapter - 95Bs R / 20MBs W
Simply the right card
More space and higher speed. Free up your devices with the largest capacity and highest read/write speeds in its class, perfect for 4K UHD video.* With astonishing performance and reliability, EVO Plus lets you save and treasure the richness of life.
4K Not Supported
4-Proof
Up to 95MB/s Read Speed
Up to 20MB/s Write Speed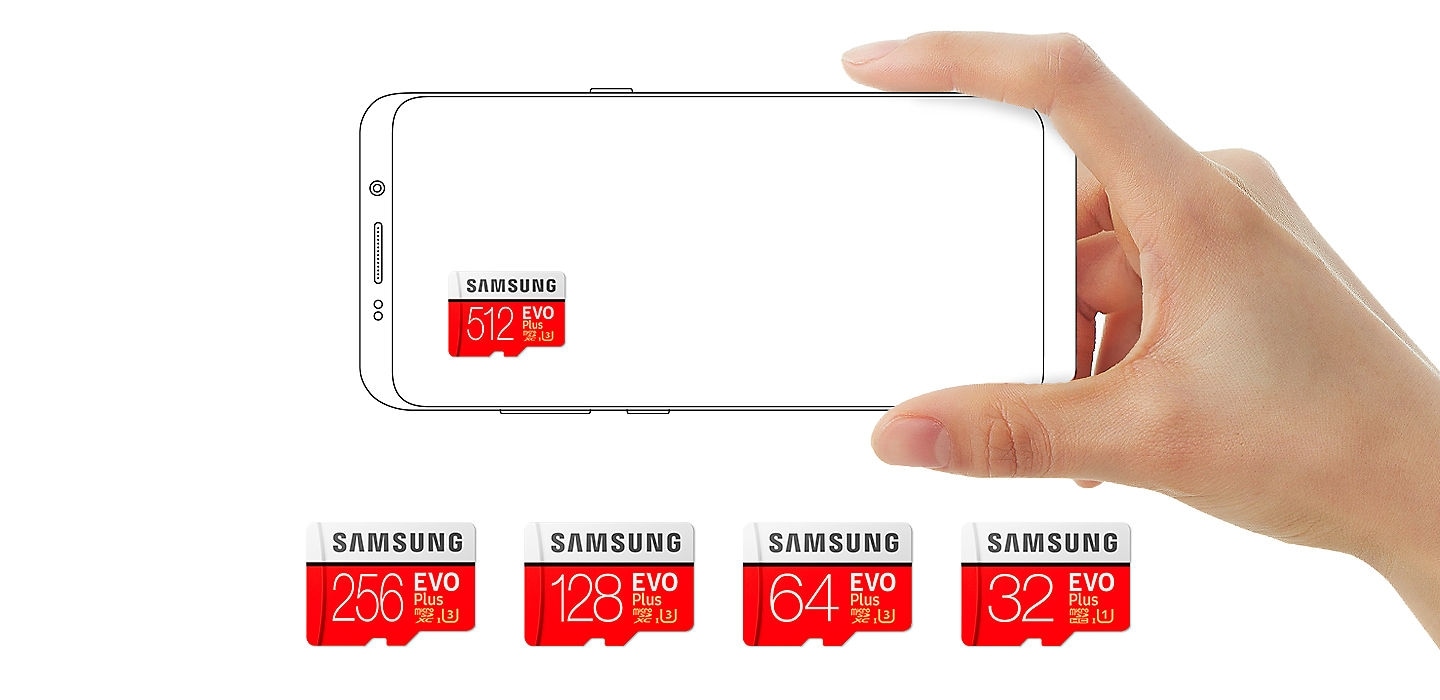 * 4K UHD video support for 512GB, 256GB, 128GB and 64GB cards. Host device compatibility may vary.
Fulfill your need for speed
Record and play 4K UHD video without glitches. With superfast read & write speeds up to 95 MB/s & 20 MB/s, the 32GB EVO Plus lets you transfer a 3GB video to your notebook in just 38 seconds.* Shoot flawless high quality photos and videos, and share them all in an instant.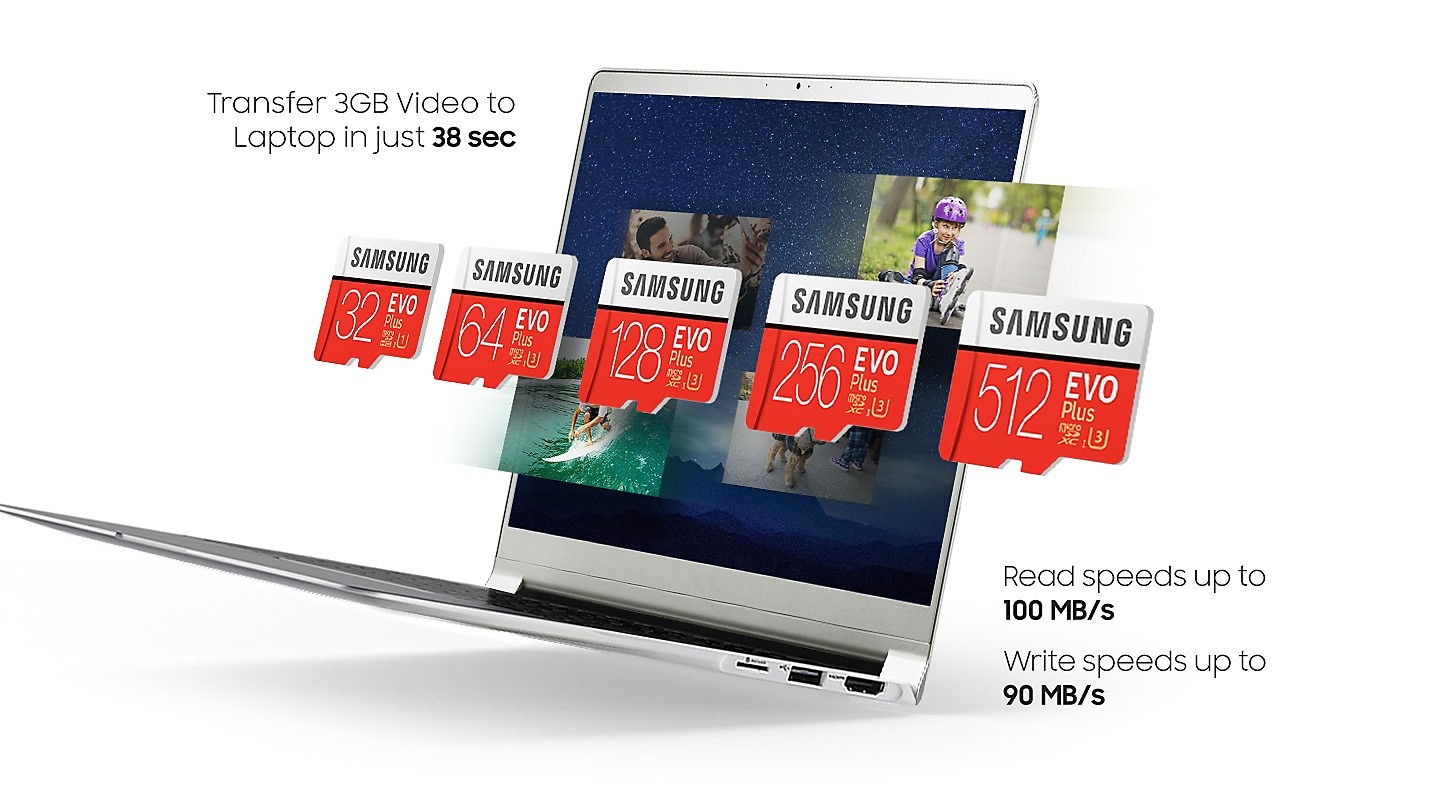 The foregoing read & write speeds are based on internal tests conducted under controlled conditions. Actual speeds may vary depending upon card capacity.
Capacity to live large
Never worry about space again. A massive memory of 32GB is enough for 1.5 hours of 4K UHD video, 5 hours of Full HD video or 9,400 photos.* So go ahead and savor all of what life has to offer and keep it all too.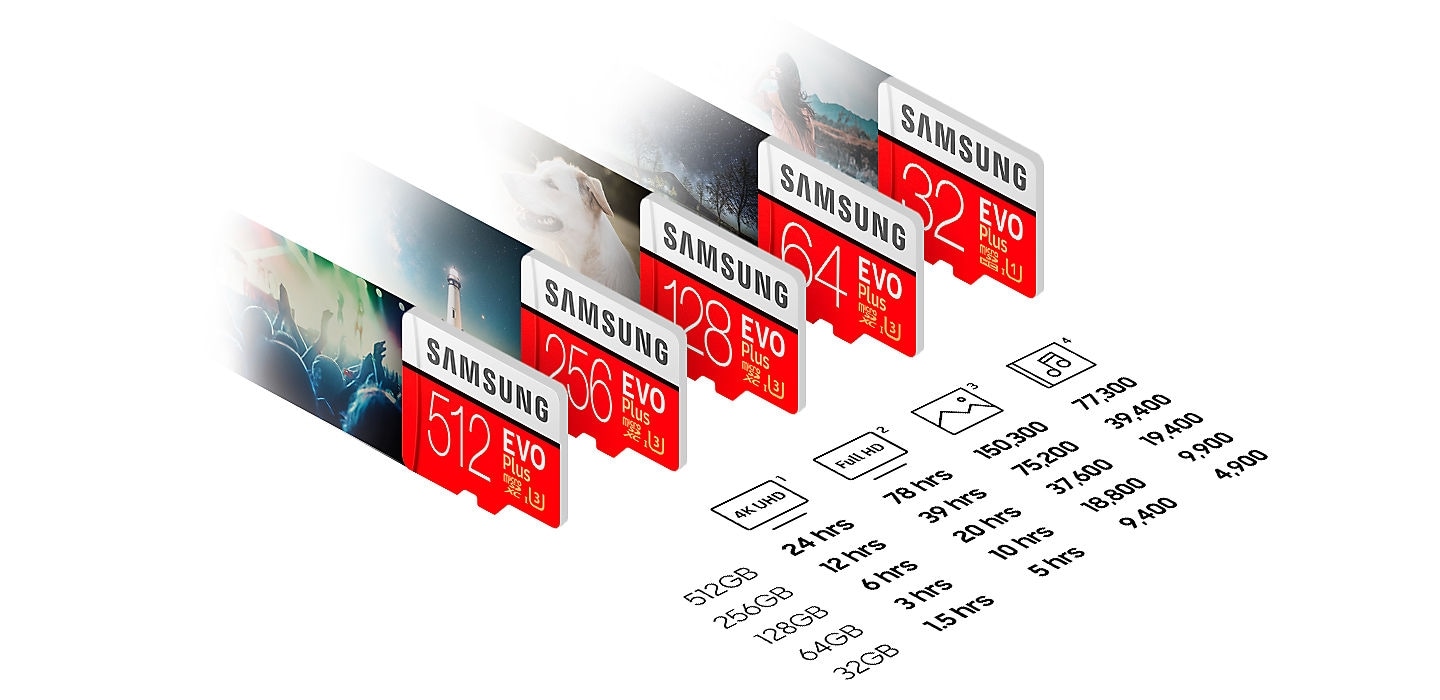 * Test Device : Samsung Galaxy S9+For 32GB, FAT32 file system is used and for 128GB / 512GB, exFAT file system is used.
1 3840x2160 4K UHD(30 fps), Average file size recording for 30 mins : 10.1GB
2 1920x1080 Full HD(30 fps), Average file size recording for 30 mins : 3.09GB
3 4032x3024 12MP, Average file size : 3.25MB Average MP3 file size : 6.2MB
Extended compatibility
Compatible with a wide range of devices for both SD and micro SD. You can even capture detailed 4K UHD video. The included SD adapter fits most devices under almost every brand name, while preserving all of EVO Plus' outstanding speed and performance.
4-Proof protection
Your experiences are irreplaceable, and now unforgettable. Backed by 4-proof protection, the EVO Plus can withstand up to 72 hours in seawater1, extreme temperatures2, airport X-ray machines3 and magnetic fields4 equivalent to an MRI scanner. Samsung provides a 10-year limited warranty.
1 Certified waterproof with IEC 60529 and IPX7 ratings
2 Operating temperatures of -25ēC to 85ēC, non-operating temperatures of -40ēC to 85ēC
3 Up to 50 Roentgen
4 Up to 15,000 gauss* Samsung is not liable for any i) damages and/or loss of data or ii) expenses incurred from memory card data recovery.
---
Specifications
Capacity
32GB (1GB=1Billion byte)
* Actual storage capacity may be lower than the labeled capacity. Part of the storage may be used for system files and other storage control purposes.

Interface
UHS-I, compatible to HS interface

Weight
Approx. 0.5g

Accessory
SD adapter

Speed
Read : up to 90MB/s with UHS-1 interfaceWrite : up to 20MB/s with UHS-1 interface
* The foregoing read & write speeds are demonstrated by internal test conducted under certain controlled conditions, and actual speeds may vary depending upon usage and other conditions. For products incompatible with UHS-I interface, the speeds may vary subject to different interface conditions

Speed Class
Grade 3, Class 10

Operating Voltage
2.7~3.6V

Storage Temperature
-40ēC to 85ēC

Operating Temperature
-25ēC to 85ēC

Durability
10,000 mating cycles

Warranty
Limited 10 year warranty.
* Warranty does not extend to dashcam, CCTV, surveillance camera and other write-intensive uses.
* Warranty for SD adapter is limited to 1 year.

Estimated Availability
100+ units in stock
*Our stock is a mix of Supplier and HT Stock.
All shipments are subject to our standard delivery policy.
Tax
Ex. GST:
$18.02
GST Amount:
$1.80
Details
Tech Code:
BN552
Manufacturer Number:
MB-MC32GA/APC
Images may differ slightly from actual product
Includes SD Card Adapter
4-Proof - Waterproof, Temparature-proof, X-Ray-proof, Magnet-proof
Read speeds up to 95MB/s
Write speeds up to 20MB/s
10 Year Warranty
Related Products